******************************************************
New Systematic Review of Forensic Dramatherapy
A new systematic review on forensic dramatherapy for adult's with mental health needs has been published in The Arts in Psychotherapy this week. This review is the first of its kind in systematicallyexploring existing forensic dramatherapy literature and drawing together what is currently known about dramatherapy in this context. With input from Lorna Downing, the review was written by Eleanor Keiller, Eleanor Melvin, Rachel Lambie and Meabh Ivers and was supervised by Jane Bourne. The review was funded by the British Association of Dramatherapists and it is hoped that it will inform the continued development of evidence based practice in forensic services as well as future research in the area.
You can access, read and share the review using this link: 
https://doi.org/10.1016/j.aip.2023.102096
**********************************
The 43rd FATAG Conference took place in London
on Friday 27th January 2023. 
A write-up will follow soon.
******************************************************
********************************************************
********************************************************
The International Journal of Forensic Psychotherapy (IJFP) launched in the summer of 2019. It is published in conjunction with the International Association for Forensic Psychotherapy and its avowed aim is to "Re-humanise the de-humanised".   https://firingthemind.com/product/ijfp/
This is a leading-edge journal promoting the health of offenders and victims through the use of psychotherapeutic understanding, risk assessment and treatment techniques, and will also advance understanding about forensic psychotherapeutic practice.
The IJFP is committed to including a wide range of practice in each issue and encourages submissions of high quality, original research in the arts therapies for publication.
******************************************************
FORENSIC ARTS THERAPIES: ANTHOLOGY OF PRACTICE AND RESEARCH - Edited by Kate Rothwell
The field of forensic arts therapies is dynamic and diverse, and so this unique volume covers a fascinating range of work.  It brings together a collection of presentations given at FATAG conferences, case studies, research, new developments in theory, and explorations in the peculiarities of forensic arts therapies: art, music, drama, and dance.
Click here to download a review of the book by Ronald P M H Lay.
Click here to download the write-up of the launch which took place on 29 June 2016 (PDF 2.7MB)
****************************************
RECENTLY PUBLISHED ART THERAPY BOOKS:
The following book is edited by Jessica Collier and Pamela Windham Stewart. It features two art psychotherapy chapters and one dramatherapy chapter.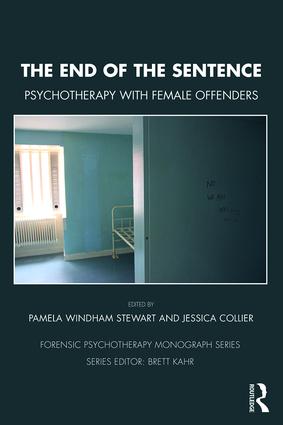 https://www.routledge.com/The-End-of-the-Sentence-Psychotherapy-with-Female-Offenders-1st-Edition/Stewart-Collier/p/book/9780367074326
https://www.cnwl.nhs.uk/news/the-end-of-the-sentence-new-book-published-on-hmp-holloway/
The following book has contributions from well known forensic psychoanalytic authors as well as Jessica Collier's chapter on art psychotherapy:
https://www.taylorfrancis.com/books/e/9781351601504
*******************************************
Conferences
The Group organises bi-annual conferences featuring speakers involved in arts therapies in forensics. Conference days also offer an opportunity to meet others in the field, share ideas and seek out support.  
The FATAG committee consists of arts therapists currently working in forensic or secure settings, who meet regularly in London on a voluntary basis. If you would like to join or assist the committee please contact us. 
**************************************************************************
Bear faced truth
BEAR FACED TRUTH (6 mins) from tony gammidge on Vimeo.
In this presentation Tony Gammage included 'Bear Faced Truth' a film made on Millfields Unit a forensic therapeutic community at the John Howard Centre for men with a diagnosis of dangerous and anti-social personality disorder. The film recounts a small therapy group on the unit with the members as teddy bears from different gangs around East London and the group psychotherapist (played by Dr. Cleo Van Velsen) a bunny rabbit called Dr. Fifi. The bears all talk about what brought them to the unit, their past lives and offences in way that is candid, chilling, moving and at times hopeful.
Tony Gammidge is an artist, filmaker, art therapist and lecturer at Brighton University. He has been running video and animation projects on forensic and psychiatric units for the last seven years and in that time has been involved in the making of around 25 films many of which have won Koestler awards.
Trust the Process and press on
'Trust the process and press on' is a film made by Kate Rothwell-Johns and Emer Douglas about a client who has worked with Kate for the past 5 years. The film is based on a talk Kate and her client gave at the Saturday Forensic Forum and includes images made in session. What is peculiar about the work is the clients long term forensic history and his use of art therapy post discharge following his acquiring global brain damage several years later. His is an extraordinary and almost unbelievable chain of events told through the medium of film. The process of making the film describes a strong counter transferential reaction to the material and how the clients disability affects the telling of his story.
Kate Rothwell-Johns is the Head of Arts Therapies for the Forensic Directorate of the East London Foundation NHS Trust and current convener of the Forensic Arts Therapies Advisory Group. Kate is also an art therapist at H.M.P Grendon, published author, private practitioner and provides educational and examining input for MA Art Therapy UK programmes.